originaly from vietnam, i think.
it suppose to be made without any dressing or sauce.
but i made it up for my friends who are not veggie eaters.
it's worked quite well as i tried with my grandpa who never liked lettuce ;-)
prepare your favorite salad leaves and veg.
chop them into very fine lines and mix together to make your rolls colorful.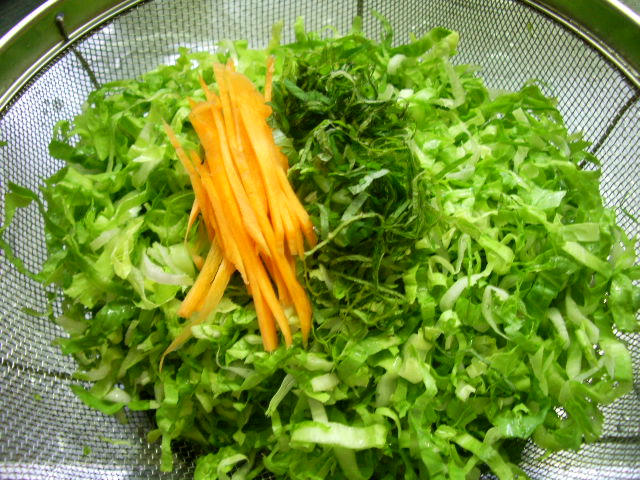 add some dressing then it's ready for roll-up.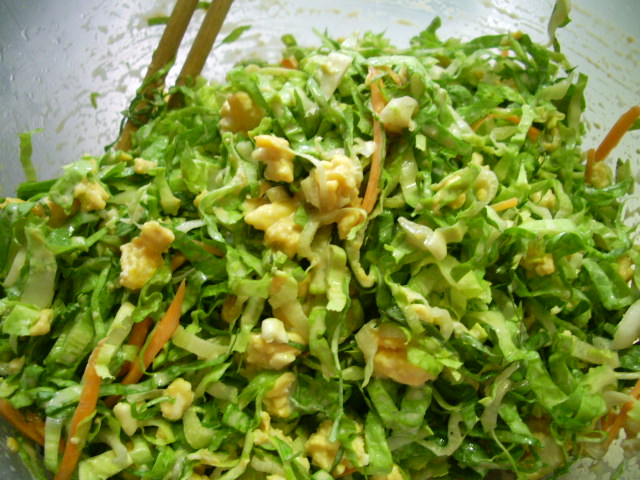 -i used mayo, sesame paste/tahini/peanutbutter and dash of soy.-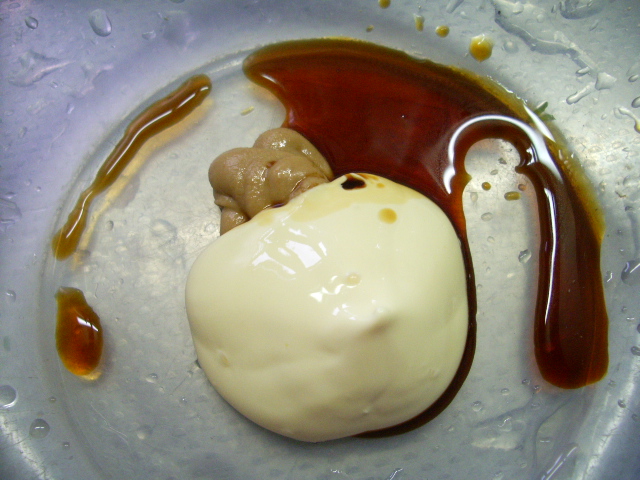 1 dip the rice paper in to cold water once.
do NOT LEAVE it in the water.
-you may find this interesting discs in an asian shop or oriental section
in a big supermarket-
then line them on clean serface.
2 place the mixture in the middle of the paper.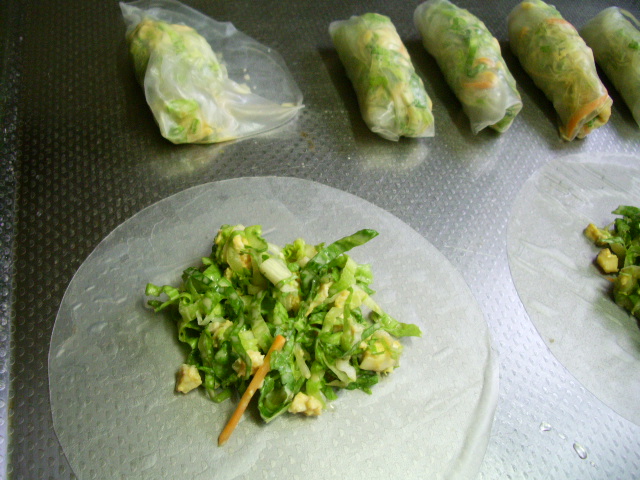 3 from the first one you dipped, carefully rolled up till 1/3of the paper.
4 then fold both sides, and finish the lest end.
when i feel very hot and unlikly,don't feel eating my lunch,
this is what i usualy have.
you may find this noodle in an asian supermarkets or china town.
if you can't find where you are
do not need to worry you can always use cappellini instead.
but cook little longer than that you should for italian pasta.
cook soumen noodle with load of boiling water for few mins.
staring all the time to avoid sticking together.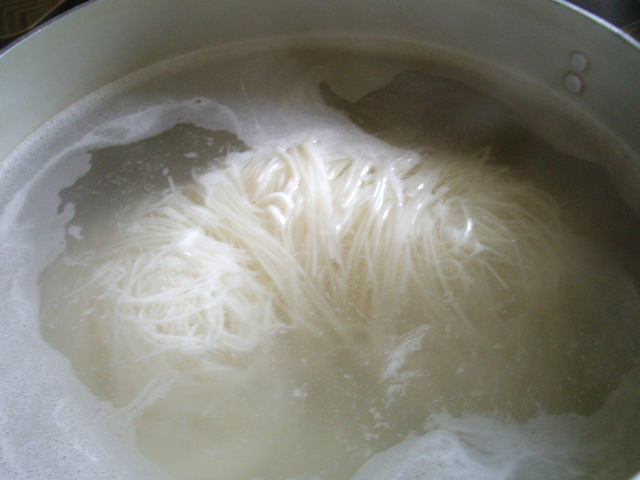 when it's cooked,drain and WASH in icy cold water.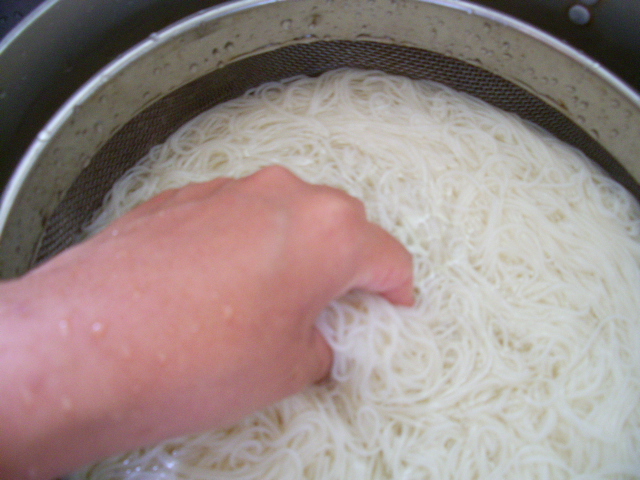 finish with your favorite topping such as
sclumble egg, fine chopped cucumber, cooked seasoned pork,
flower of japanese herbs, sesame seeds etc etc...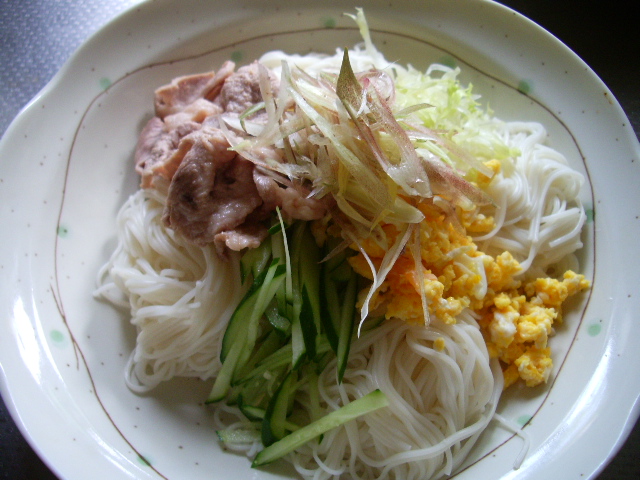 serve with japanese soy base dipping sauce.
Do you like smoky flavor?
Have you thought about vegetable carpaccio in Japanese cuisine?
Yes,here is one of them.
It is popular side dish at my house especialy in hot summer.
You will need
fresh aubergines,
a gridiron for your gas cooker or grill
1 poke all aubergines with the tines of a fork/or skewer to produce small holes
to help the steam escape and cook quickly.
2 turn the gas on and set the gridiron.
3 cook the vegetables on the middium high heat occasionally untill you see
some juice from those holes.
4 once they become soft,put them into icy water for a second.
5 take them out then peel them with your fingers or using toothpicks.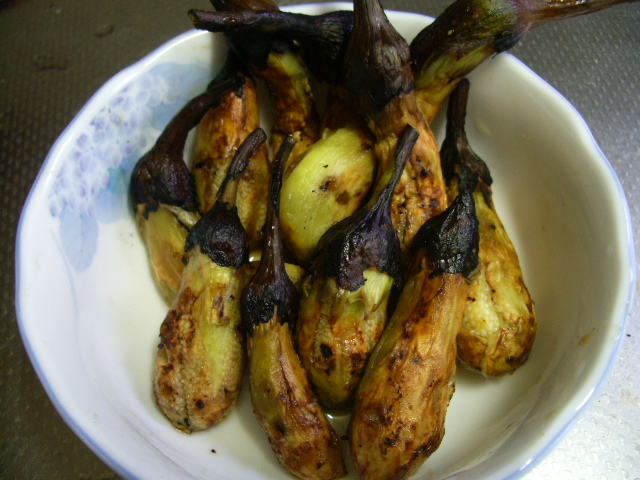 to serve with...
soy with freshly grated ginger for refreshing traditional flavor
or good quality salt with dash of E.V.O.
photo A
photo B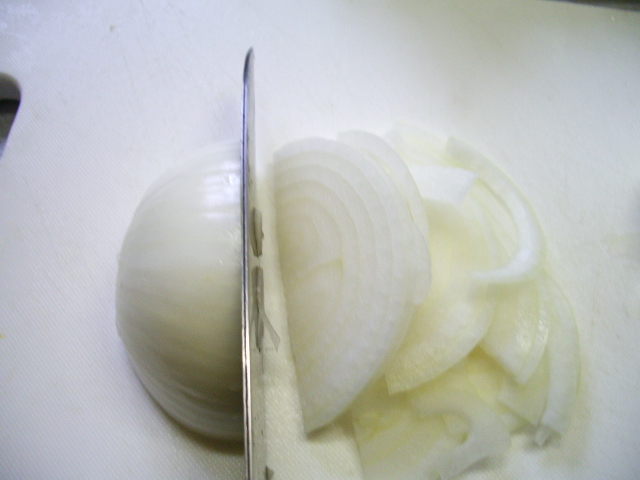 question no.1
which is sweeter onion?
--answer
photo B
you are cutting against lines-fibers of onion.
when you cut like this,the spiciness will not keep inside of the cells.
question no.2
which is better for elderly/baby dishes?
--answer
photo B
as you cut against those lines,it will not keep shape.
which means it is easy to chew ;-)
question no.3
wich will keep the shape when it's cooked?
--answer
now you know!
yes!it is photo B.
answere no.1
it's very popular dish at my home.
if you can find Japanese Soy where you live,
then probably you can cook this homey taste;-)
what you need...
potatoes,
onions,
mince,-beef or pork or even both-
carrots,
shiitake mushroom-optional-
Japanese soy,
sugar/honey,
sake/vodkka/mirin,
Japanese soup stock-dashi-,
cooking oil for frying
1 chop all the vegetables.
2 fry the mince with high temp.in a deep pan.
3 add the potatoes into the deep pan.
4 fry them until the edges changed light in coulor about 3-5mins.
5 add the onions and carrots, fly for 2mins.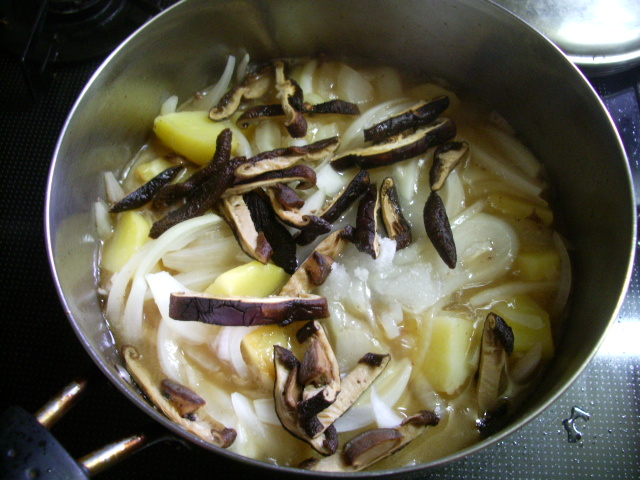 6 then sake/vodkka/mirin up to 1/3 hight of the vegs.
7 put a lid,cook for 5-10mins with slow heat.
8 add 1/6 to 1/5 amount of potatos of sugar/honey,cook for 5 more mins.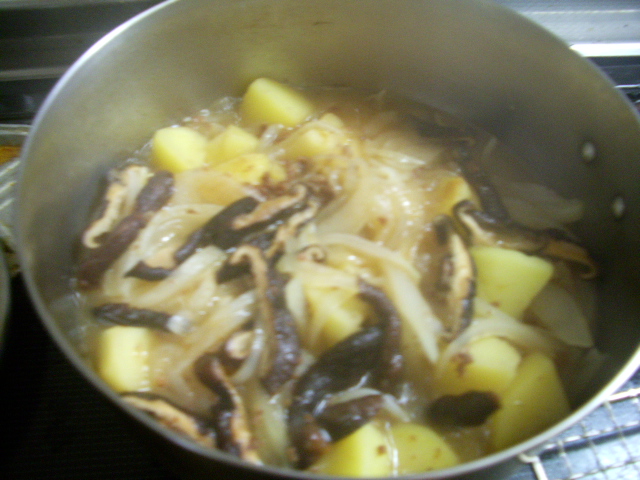 9 add soup stock and half to same amount of sugar of soy,
cook for 4-6mins or until the sauce will nearly finished.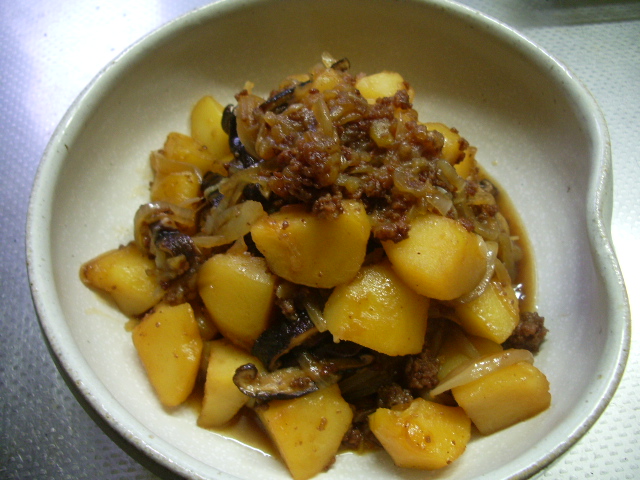 if you want to put dried shiitake mushroom,
warm up with some cold water with a microwave for few mins.
and add at the same time as the carrots.
they will soak the water very quickly.
you can use that water as stock or soup,its really yummy!!
one of my friend asked me to have a lesson
for her childern of 3yrs and 8yrs plus their friend.
i answered
"why not?"
they wanted to make something for their father's day present.
i picked two kinds,
buiscuits, and gummies!!
we made egg free buiscuits and natural fravor gummies.
its not difficult at all so that 3years boy did really good job!!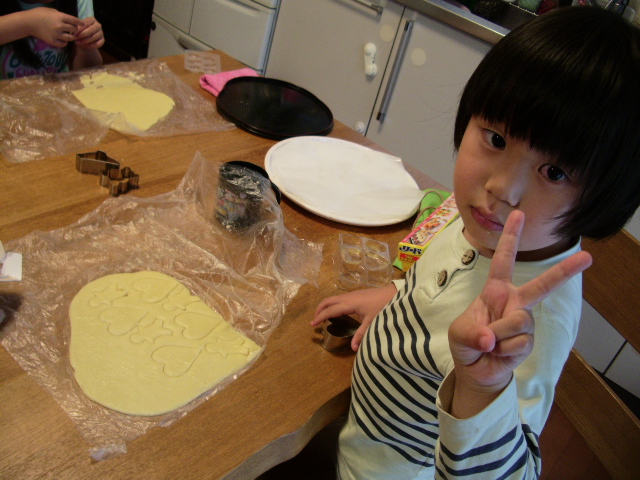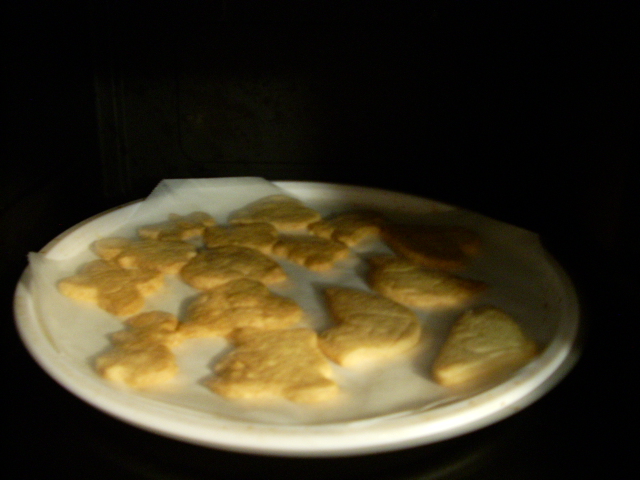 yummmm...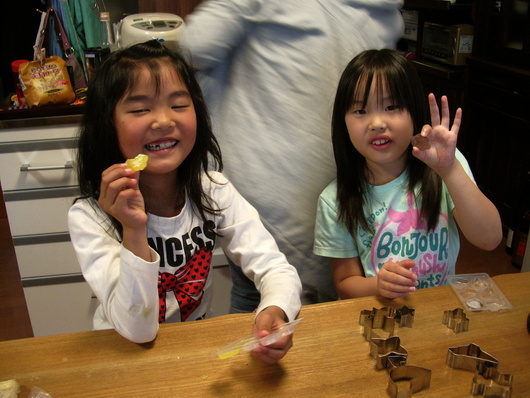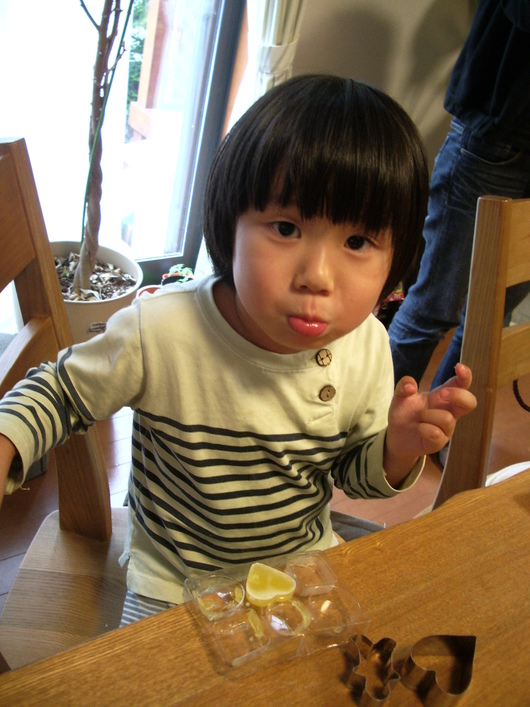 small tips for your everyday cooking!

by kihilala
記事ランキング